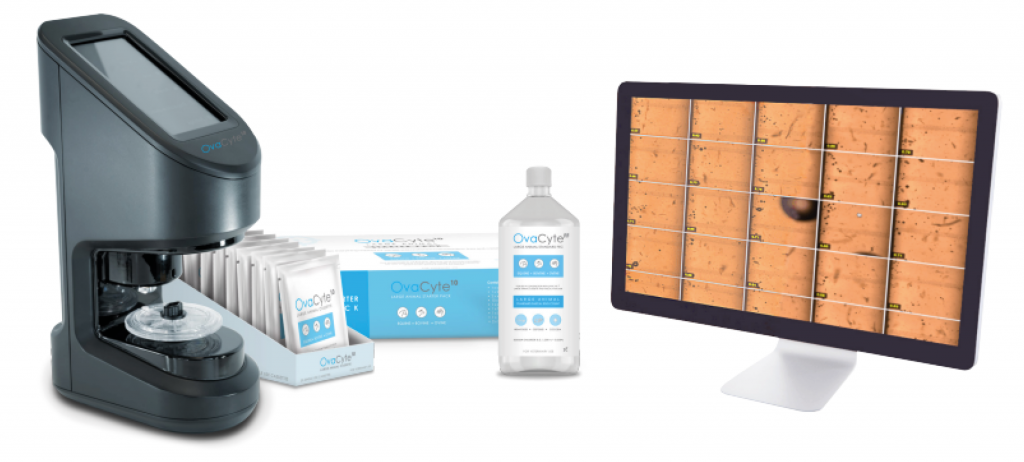 The OvaCyte FEC system developed by Irish technology company Telenostic Ltd in conjunction with University College Dublin and ICHEC (Irish Centre for High End Computing) and distributed by Duggan Veterinary Supplies is an impressive point-of care solution now available to veterinarians in Ireland. It is an affordable small footprint analyser that would easily fit into a small laboratory in a veterinary clinic. It makes use of a 2-minute easy sample preparation method and then once filled, the cassette is placed onto the analyser.
The system is fully automated from this point on requiring no time from the operator. The analyser, which is essentially a scanning microscope with an inbuilt camera systematically images the channel in the cassette. These high-quality images are uploaded to the cloud based Artificial Intelligence algorithms which identify and count the ova and oocysts and send back a report in real time as the scan is proceeding.
The advantages of a system such as OvaCyte are its high analytical sensitivity providing high precision results, ready to read in minutes. The system is highly standardised leading to consistency of results. The time & labour it enables the practice to save is considerable compared to lab based testing or in-house manual McMaster counts. Systems such as the OvaCyte will hopefully remove the barriers of traditional FEC methods and lead to the increased utilisation of the very important strategy of targeted treatment implementation through evidence based FECs.
We are also thrilled to announce that OvaCyte FEC has now passed the Vetqas proficiency testing. Vetqas, based at Sutton Bonington, near Loughborough, Leicestershire, is the market leader in proficiency testing for veterinary laboratories, with over 40 years experience in the field and is an accredited proficiency testing provider (ISO/IEC 17043 – Conformity Assessment – Guidelines for Proficiency Testing).