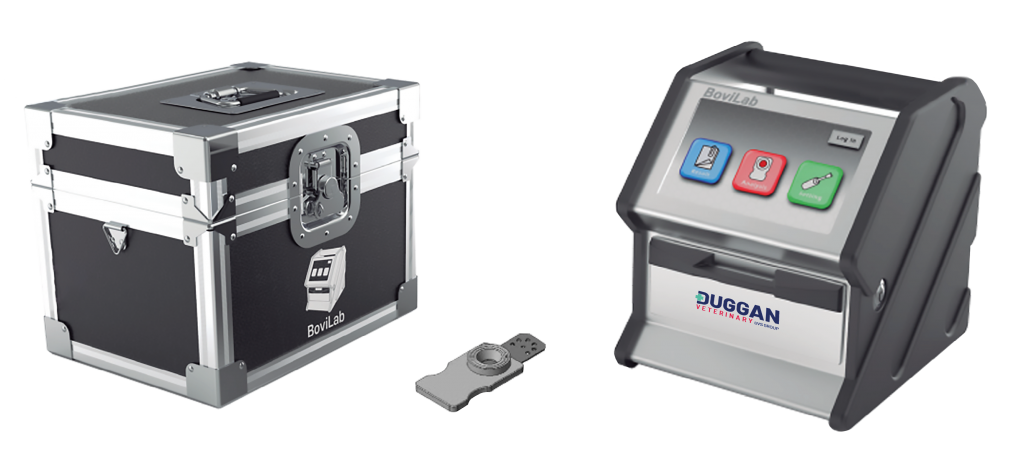 Recently at the 2022 Buiatrics Conference in Madrid, Duggan Veterinary along with technology partner IB Holdings Ltd. launched a new metabolic analyser – the Bovilab. The Bovilab is a veterinary device which has the ability to analyse multiple analytes (6 simultaneously) at once, not only in the laboratory but also on site. As a result, early detection and action becomes possible, improving herd health and pre-empting problems that may accompany periods such as calving for example. This easy-to-use blood testing system utilises 3 simple steps to perform an analysis, using a tiny amount of whole blood and provides results in as little as 7 minutes.
Donal Duggan, Duggan Veterinary describes the 'Bovilab as a portable, high-tech, high precision whole blood analyser, with the ability to analyse 15 analytes including NEFA. Simultaneous analysis of 6 analytes per slide, with no centrifugation required can be easily and quickly carried out by any member of the veterinary practice with results uploaded to the cloud via wi-fi.'
The Bovilab utilises ground-breaking technology and is going to be a game changer with regards to Bovine Herd Health, allowing the veterinary surgeon to instantaneously access information which will greatly improve the level of on farm knowledge.
Other features of Bovilab include the high data storage, transfer capability and remote access. The Bovilab has the ability to store over 1000 results, and with the transmission function, analysis results can be checked on a computer, mobile phone with comparative analysis against nationally accepted ranges. It is also possible to print the analysis results via Bluetooth printer if required.