Title: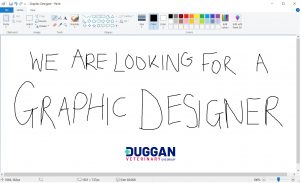 Graphic Designer
Reporting To:
Marketing & Communications Manager
Location:
Thurles, Co. Tipperary / Hybrid
Role Summary:
Reporting to the Marketing & Communications Manager, the selected candidate will support and assist with graphic design collateral for digital and print purposes. This role will give great exposure to producing a variety of design work targeted at veterinarians as well as the general consumer. Hybrid role, with at least 2 days in the office in Thurles.
Key Functions & Activities
Work closely with the Marketing Manager in executing design material for print and digital purposes
Design print work including full, half and quarter page ads, detailers, promo flyers and brochures
Digital ad creation including social media ads, assets for email marketing and web images
Proof files prior to online submission or print
Follow HPRA guidelines in line with best practices when designing veterinary medicinal packaging (labels, cartons, and leaflets.)
Produce ad hoc reports as required by marketing and management
Assist in other areas of the business where necessary
Person Specification:
This will suit somebody who is studying towards a graphic design degree or diploma or a recent graduate who is looking to gain hands-on graphic design experience
Good communication and interpersonal skills
Creative and innovative
Experience working with Adobe Creative Suite, particularly Illustrator and Photoshop
Excellent knowledge of standard office computer programs such as Word, Excel, PowerPoint and Onedrive
Excellent design skills; typography, colour theory and composition
Good organisation skills, strong self-motivation, uses initiative, and a self-starter
Ability to multi-task, prioritise and work to tight deadlines
To apply, please forward CV to Brian@dugganvet.ie before May 20th 2022.