Title: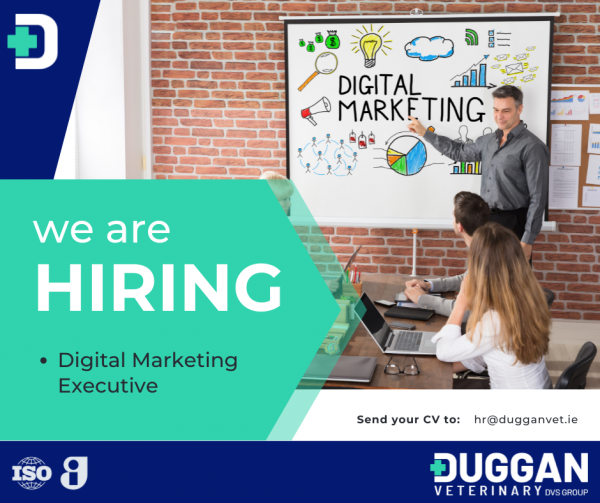 Digital Marketing Executive
Reporting To:
Marketing & Communications Manager
Location:
Thurles, Co. Tipperary / Hybrid
Role Summary:
We are looking for a Digital Marketing Executive with Graphic Design experience to assist in the planning, execution and optimisation of our online marketing efforts.
The ideal candidate will have a passion for all things marketing and technology. You will be well-versed in the concepts surrounding digital marketing and how the internet can become a strong asset to securing growing revenue. You will be tech-savvy and intuitive with great ideas to reinforce our marketing campaigns.
The new Digital Marketing Executive to the team, will come with innovative ideas in order to implement digital strategies crafted to drive growth and visitor numbers, including optimisation of online sales channels. To be successful in this position, you'll be a self-starter, capable of delivering brilliant creative ideas, and show amazing attention to detail.
Key Functions & Activities:
Being actively involved in website development including SEO efforts (keyword, image optimisation etc.)
Showing excellent writing, editing and communications skills, tailored for target audiences, with an understanding of online and offline writing requirements.
Launching optimised online adverts through Google AdWords, Facebook etc. to increase company and brand awareness
Measuring performance of digital marketing efforts using a variety of Web analytics tools (Google Analytics, WebTrends etc.)
Creating content, scheduling, monitoring and reporting on the ongoing company presence on social media
Tracking and reporting on agreed digital and social media objectives and metrics and continuously optimising our strategies to meet these objectives.
Illustrating concepts by designing graphics, assets and materials and submitting them for approval.
Managing the email marketing database and creating marketing emails using email marketing tools e.g., Mailchimp
Administrating support and co-ordination for projects such as external trade shows and internal company events
Ensuring our brand guidelines are clear, strong and implemented in a consistent manner across all our channels.
Desired Personal Skills:
Effective in time management and self-discipline
Comfortable operating to multiple deadlines and handling many projects at once
Flexible and forward thinking with analytical mindset
Excellent communication and interpersonal skills
Strategic thinking that can take broad concepts and vision to develop structured plans, actions, and measurable metrics and then effectively execute those plans.
High attention to detail
Ability to work well under pressure without direct supervision
Creative, dependable, curious, organised and a team player
Excellent communication skills and a sense of humour
Willingness to learn, develop and upskill
Desired Professional Skills:
A relevant third-level Qualification
Strong technical skills in disciplines such as graphic design, video editing, digital marketing software, and social media scheduling, analytics, and management platforms
Proficiency with required desktop publishing tools, including Photoshop, InDesign, and Illustrator and MS Office
Working knowledge of Mailchimp, WordPress, Canva, Hootsuite etc.
Excellent understanding of digital marketing concepts and best practices
Experience with B2B social media, Google Adwords, Facebook ads, email campaigns and SEO/SEM
Knowledge/experience of Google Tag Manager and tag management
Good knowledge of web analytics tools (e.g. Google Analytics, NetInsight, WebTrends etc.)
Experience in a Digital Executive, Graphic Design or similar role
Fluent English with relevant work visa if applicable
Benefits:
Salary commensurate with experience and attitude
Laptop provided
Expenses covered
20 days annual leave and Birthday off
Continuous professional development
12 monthly reviews with performance related rewards
Hybrid role
Networking opportunities
Social occasions
Monthly staff rewards
Salary:
€25,000 – €35,000
Please forward your CV to hr@dugganvet.ie, with "digital executive" in the subject line.