Title: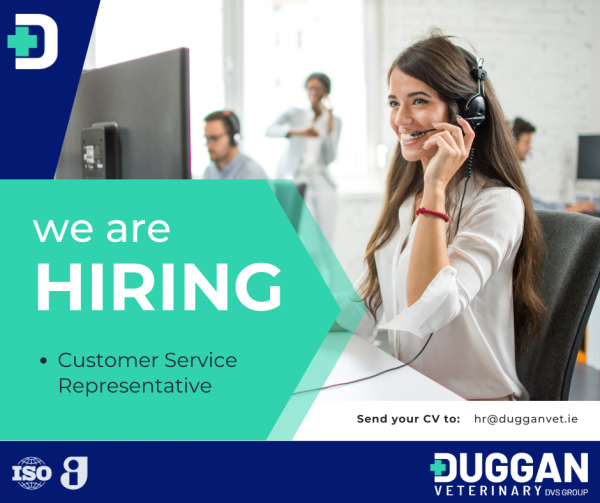 Customer Service Representative
Reporting To:
Customer Service Manager
Location:
Thurles, Co. Tipperary
Role Summary:
In the role of Customer Service Representative, you will be required to field and manage customer queries relating to our range of veterinary products. You will be asked to process orders, modifications, and escalate issues and complaints as required to the relevant department or contact within the business.
Key Functions & Activities
Maintain a positive, empathetic and professional attitude toward customers at all times
Responding promptly to customer inquiries
Acknowledging and resolve customer complaints
Developing and maintaining knowledge of our products to a sufficient level of detail so that you can answer customer questions
Process orders received through various channels
Provide support for the Field Sales team where required
Assist in specific product sales campaigns from time to time by phoning specific target customers to inform them of offers, promotions etc
Be proficient with the Vetportal module of our Herbst system
Be proficient in the use or relevant modules and functionality within Herbst to be able to execute the function of the role
Trace and track deliveries on case by case basis
Keeping records of customer interactions, transactions, comments and complaints in the contacts section within Herbst system.
Communicating and coordinating with colleagues as necessary
Providing feedback on the efficiency of the customer service process
Ensure customer satisfaction and provide professional customer support
Issue and follow up Cascade forms to customers as needed
Field and dispatch phone calls to relevant departments of the business
Due to the changing nature of the business requirements, this role or days completing this role may vary from time to time. Should this occur, your Manager will discuss any changes
Any other reasonable request from your manager
Personal Specification:
RVN or background in Veterinary Nursing.
Previous experience working in a support role within a distribution business and/or experience of working in the veterinary sector.
Good communication and interpersonal skills
Flexible and adaptable approach to work
Effective administration and organisation skills
Good computing skills, including some experience of using ERP (Herbst) systems, Excel and databases
Good organisation skills
Good decision-making skills
Energetic, motivated, with an enquiring mind and passion for excellence and customer service
Strong team player
Competencies Required for this Role:
The post holder will demonstrate competence in the following areas:
Managing Relationships
Is committed to building and maintaining effective relationships with internal and external stakeholders
Understands client needs and delivers timely response to ensure their needs are met
Anticipating & Adapting to Change
Has a positive attitude to change and willingly identifies and embraces new plans for the business
Imagination, Innovation & Creativity
Embraces innovation and creativity within the Company
Displays fresh and forward-thinking approach
Communications Skills
Demonstrates ability to communicate verbal information clearly and concisely and actively participates in relevant meetings
Learning and Development
Is open to giving and receiving constructive feedback from colleagues and others as appropriate
Demonstrates a commitment to develop oneself in line with business needs
Please forward your CV to hr@dugganvet.ie, with "Customer Service Rep" in the subject line.