Title: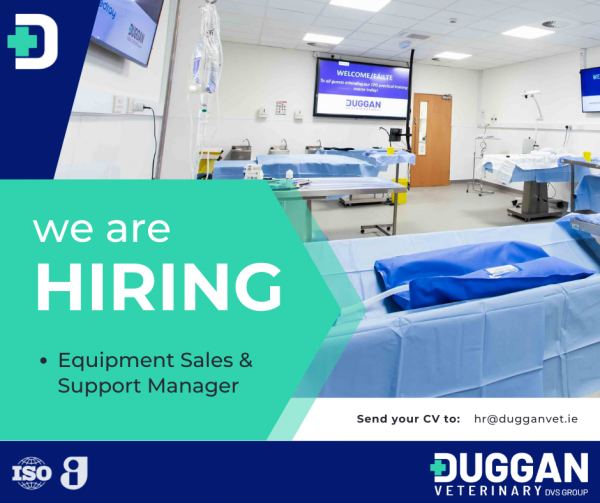 Area Sales Manager – Equipment
Reporting To:
Companion Animal Sales Director
Location:
Office / Field Based
Role Summary:
This role involves working with the Companion Animal Sales and CPD Teams in maintaining and generating sales of our extensive range of furniture and equipment products against specified veterinary target customers. This role will support and further develop our expanding range of products, introduce new products to the marketplace, and deliver support activities to an expanding client list.
Key Functions & Activities
Develop and achieve agreed sales targets within a supportive team environment
Working with the Companion Animal Sales Team in following up leads and customer enquiries regarding our extensive veterinary equipment range.
Contact existing client list of veterinary practices and other relevant customers at an agreed frequency throughout the year.
Work and engage closely with key veterinary groups, supporting and developing the overall business in key product areas.
Promote and market existing range of veterinary equipment, furniture and instruments to all accounts
Build annual business plan to assist in achievement of agreed targets and review and amend as necessary throughout the year
Introduction and distribution of new products and services.
Explore opportunities to grow existing business
Offer support to customers purchasing equipment.
Identify and resolve client concerns, resolve queries and provide sound advice on product queries
Develop ways of offering increased value and service to all clients to further build the company reputation and brand.
Maintain an excellent knowledge of the DVS equipment/ furniture range
Attend customer trade shows or CPD events on site to offer support on veterinary equipment. This may involve the odd weekend work.
May have to visit customers to discuss equipment, demo equipment, etc
Gather and share market information and intelligence to assist in development of overall company strategy and plan.
Update company systems on equipment range i.e online portal (Herbst), as required
Work with procurement, finance, marketing and other departments as required to ensure smooth operation of all aspects of the business to help drive overall company growth and success
Due to the changing nature of the business requirements, the role may change from time to time. Should this occur, your Supervisor will go through those changes at that time
Any other reasonable request from your manager
Person Specification:
Knowledge of veterinary industry beneficial and along with experience using equipment in veterinary practice.
Degree in life sciences including agricultural science, veterinary science or animal science will be preferable.
Good communication and interpersonal skills and a proven ability to establish, develop and maintain long-term customer relationships.
Flexible and adaptable approach to work
Good computing skills, including experience of using Microsoft Excel and databases
Good organisation skills, strong self-motivation, initiative and self-starter, with great work ethic
A professional appearance, providing a positive company image to the public
Good decision-making skills
Strong team player
Current clean drivers' licence
Competencies Required for this Role:
 The post holder will demonstrate competence in the following areas:
Managing Relationships
Is committed to building and maintaining effective relationships with internal and external stakeholders
Understands client needs and delivers timely response to ensure their needs are met
Anticipating & Adapting to Change
Has a positive attitude to change and willingly identifies and embraces new plans for the business
Imagination, Innovation & Creativity
Embraces innovation and creativity within the Company
Displays fresh and forward-thinking approach
Communications Skills
Demonstrates ability to communicate verbal information clearly and concisely and actively participates in relevant meetings
Learning and Development
Is open to giving and receiving constructive feedback from colleagues and others as appropriate
Demonstrates a commitment to develop oneself in line with business needs
Benefits:
Salary commensurate with experience and attitude
Laptop provided
Expenses covered
20 days annual leave and Birthday off
Continuous professional development
12 monthly reviews with performance related rewards
Hybrid role
Networking opportunities
Social occasions
Monthly staff rewards
Please forward your CV to hr@dugganvet.ie, with "Area Sales Manager" in the subject line.
Shortlisting may apply.