Title: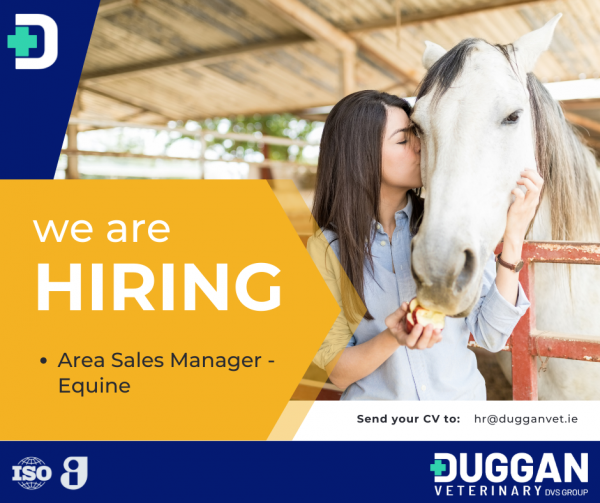 National Sales Manager – Equine
Reporting To:
General Manager
Location:
Office / Field Based – ROI & NI
Role Summary:
The purpose of this role is to manage and develop the Equine Sales strategy for the sale of all
Equine products to all Equine customers in Ireland (Northern & Republic of Ireland) and attain
the annual budgeted revenue targets . The role will engage with existing Equine customer
accounts and develop new customers which deliver mutually beneficial and profitable
relationships. The role requires having a satisfactory and competent level of commercial
management ability. Knowledge of the Equine Industry (Veterinary, Trainer and Stud Sector)
will be of benefit. The role will involve promoting all associated products while supporting
existing and developing new relationships in the Equine market.
Key Functions & Activities
– You must develop a strong interpersonal relationship with your existing clients and new
clients as they come on board.
– Engage with and manage existing customer accounts.
– Understand and implement the sales process.
– Prospect and develop a business plan to a pipeline of new customer accounts and
relationship
– Be knowledgeable in products relating to your area of business – i.e. Equine sector
– Manage and Attend specific equine customer trade events to enable business
development. There will be occasional weekend attendance required.
– Increase the adoption of Equine customer usage of the VETPORTAL ordering system
amongst the customer base and drive usage.
– Each customer/prospecting meeting should have a desired outcome and incorporate the
Sales Process, which will enable the business to achieve its goals.
– Manage and develop a business development plan to grow the Equine business within
Corporate Groups and Key accounts
– Responsible for the preparation of sales budgets and forecasts for your market and working
to achieve/ exceed the monthly targets.
– Report and present to the GM on a regular basis on trends with the equine sector and
the threats and opportunities there-in.
– Update and manage the input of Equine information to the company CRM, while
updating the customer profile and related information.
– Manage annual rebate & sales incentive agreements for all equine customers, presenting
a regular analysis to the GM.
– Visit Clients conferences and seminars where necessary. Identify new business
opportunities in the Equine market. Identify opportunity for the promotion of new
products.
– Due to the changing nature of the business requirements, the role may change from time
to time. Should this occur, your manager will go through those changes at that time
– Any other reasonable request from your manager
Person Specification:
1. Previous experience within the equine industry with a responsibility for sales or business
development with a minimum of 2 years experience.
2. Degree qualified in Business, Life sciences or any other technical discipline.
3. Proven record of achieving sales targets and meeting annual forecast figures.
4. Good communication and interpersonal skills with a flexible and adaptable approach to
work
5. Possess computing skills, with a working knowledge of Excel, PowerPoint and word.
6. Good organisational skills , ability to plan & a proven problem solver.
7. Good decisiveness and decision-making skills
8. Energetic, highly motivated, with an enquiring mind and passion for excellence and
customer service
9. Strong team player & ability to proactively seek resolution when unfavourable
circumstances arise.
10. Current driver's licence
Competencies Required for this Role:
The post holder will demonstrate competence in the following areas:
• BUILDING RELATIONSHIPS – is the process of developing social connections. This is a
fundamental business competency that is the basis for reputation, influencing, closing
deals and sustaining business relationships.
• CUSTOMER ORIENTATION – The ability to demonstrate concern for satisfying one's
external or internal customers. Identifies and prioritises customer needs and
recognises constraints. Seeks to find out more about customers and provide better
service. Is professional, reliable and delivers on promises. Brings a competitive focus
to customer.
• NEGOTIATION – Is the ability to know how to get what you want; understands the
win-win relationships; understands each party's interest in the situation
• PROBLEM-SOLVING – Is the ability to find solutions to complex problems quickly;
know how to identify problems and strengths; good analytical skills.
• RESULTS ORIENTED – The ability to focus on the desired result of one's own
department's work, setting challenging goals, focusing on the goals, and meeting or
exceeding them.
• DECISIVENESS – The ability to make difficult decisions in a timely manner and avoid
procrastinating or asking for unnecessary data or information. Makes the right
decision, asks the right questions, finds solutions.
Please forward your CV to hr@dugganvet.ie, with "Area Sales Manager" in the subject line.
Shortlisting may apply.